7th Workshop on the Operation and Maintenance (O&M) of the IMS
Objectives
The Workshop will:
Facilitate interaction between Station Operators and with the PTS.
Highlight major achievements in the Operation and Maintenance of IMS stations while focusing on the necessary steps to be taken to ensure their long-term sustainment.
Focus on the way forward to enhance IMS station data availability, quality and its authentication.
Update Station Operators on tools available for monitoring and assessing IMS network performance.
Experience and challenges of network Operation and Maintenance under unforeseen circumstances.
Location
Vienna, Austria
(The workshop can be transformed to an online format in case of unforeseen circumstances)
Dates
28 November to 2 December 2022
Language
English
Participants Profile
Station Operators, local operators, NDC staff, contractors and equipment suppliers involved in the operation and maintenance of the IMS.
Registration and Abstract submission
Participants are invited to register online at the Commission's CTNW platform https://ctnw.ctbto.org  where abstracts can also be submitted using online submission forms.

By submitting an abstract, authors implicitly agree to the publication of their abstract and presentation materials by the CTBTO. Abstracts will be made available in a book of abstracts.

No registration fee will be charged.

States Signatories wishing to nominate experts to participate are requested to inform the Provisional Technical Secretariat (See Point of Contact) through their respective Permanent Mission.
Application Deadline
17 July 2022
Abstract Submission Deadline
17 July 2022
Themes
The main themes of the O&M 2022 Workshop will be:

1. OPERATIONS
Station Operator experience in operating individual IMS stations or a network of stations.
Monitoring, troubleshooting, communication, and software tools.
Network QA/QC program (Calibration of SHI stations, RN network QA/QC, and common problems at stations that affect data quality)
Data surety requirements and status of data authentication

2. MAINTENANCE   
Preventive and corrective maintenance
Services and support
Documentation (Station specific documentation, standard operating procedures and equipment user manuals)
Configuration management
Logistic support – spares and depot policy, shipment and customs clearance

3. LONG TERM SUSTAINMENT AND WAYS TO ENHANCE DATA AVAILABILITY AND QUALITY
Best practices for station operation, maintenance and design
Identifying and resolving root causes of station downtime
Enhancement of the robustness of the IMS Network & GCI links
Remote technical support
Sustainment of the IMS (Recapitalization and upgrades)
Technical trainings and capacity building
Life-cycle management of IMS stations
Technology refreshment

4. NEW TOPICS AND CHALLENGES
Performance and sustainment challenges of the auxiliary seismic network
Learnings from two years of covid related restrictions supporting a globally distributed network during unforeseen circumstances.
Knowledge management

Financial Information
Financial support may be available to a limited number of participants. Such assistance must be requested at the time of registration and no later than 31 May 2022. Financial support will be considered only for those who have submitted an abstract. Participants are strongly encouraged to first seek travel and participation funds from non-CTBTO sources.

Applicable to PTS-funded participants only:

In accordance with the staff regulations and rules and administrative directives, the PTS will provide the following:
A Daily subsistence allowance (DSA) that is sufficient to cover the related expenses during the workshop program.
The PTS travel agent will reserve, issue and forward the flight ticket to the participants for the most direct and economic route.
Funded participants are not allowed to purchase their own tickets unless, under exceptional circumstances, be authorized to do so and only if this proves to be the most cost effective option for the PTS.
The PTS will book a hotel and cover the costs for the accommodation and workshop participants will receive their remaining DSA upon arrival; and
Health insurance will be provided that covers the duration of the workshop.
Requirement: Scanned passport copies.
 
Information for Participants
Hotels
Information about hotels and venue of the workshop will be provided at a later stage.
Presentations
All presentations should be in oral format only.
Visas
Participants should apply for visas, if needed, at the corresponding consular office upon receipt of an acceptance Note Verbale from the PTS, in order to ensure timely processing. The PTS will provide personal invitations to visa applicants.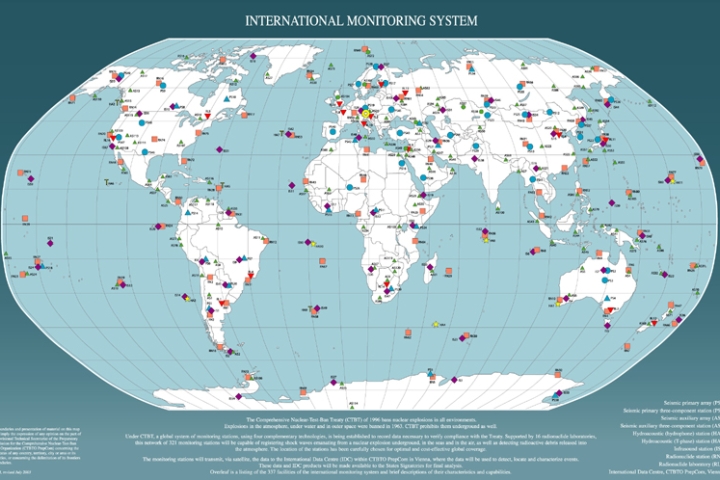 PTS Point of Contact
Capacity Building and Training Section (IDC/CBT)
International Data Centre Division
CTBTO Preparatory Commission
P.O. Box 1200, A-1400
Vienna, Austria
Tel:  +43 1 26030 6132
Fax: +43 1 26030 5973
Email: 
[email protected]