Africa Day is celebrated annually on 25 May to mark the creation of the
Organization of African Unity
in 1963.  The Comprehensive Nuclear-Test-Ban Treaty Organization (CTBTO) has been headed by
Lassina Zerbo
, a national of Burkina Faso, since August 2013. Africa Day was celebrated at the United Nations Vienna on 26 May 2015 in a special event hosted by the Africa Group. Executive Secretary Zerbo addressed the event, see
statement
or watch
video
.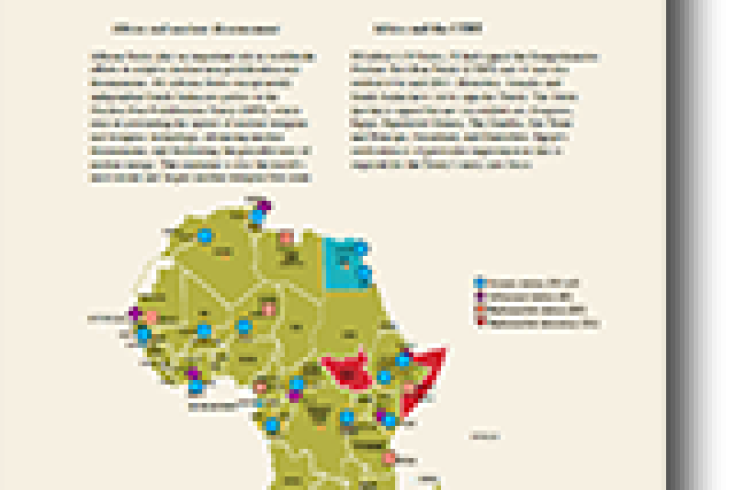 Africa needs to be part of the global picture. We can't just leave a global security issue like nuclear arms control to the "usual suspects".
Africa plays an important role in the worldwide quest to ban nuclear weapon testing. Of the region's 54 States, 51 have signed, of which 44 have already ratified the Treaty (as of May 2015). At present, around 35 of the CTBTO's 260 staff members come from Africa. Meet some of them in this video:
While the Comprehensive Nuclear-Test-Ban Treaty (CTBT) has yet to enter into force, African countries have already outlawed nuclear testing across the continent as part of the Treaty of Pelindaba, which established a nuclear-weapon-free zone when it entered into force in 2009. It is the world's most recent and largest such zone in terms of countries (54) and size (over 30 million km²). Virtually the entire southern hemisphere is now an area free of nuclear weapons.
The Pelindaba Treaty prohibits the testing, research, development, manufacturing, stockpiling, acquisition, possession, control and stationing of nuclear explosive devices in the territories of its Member States. It opened for signature in Cairo, Egypt, on 11 April 1996, preceding the
adoption of the CTBT
(24 September 1996) by a few months.
The presence of many experts from different African countries is testimony to our countries' dedication to address questions as urgent as those linked to the analysis of data, notably when it comes to the proliferation of nuclear weapons, accidents and other catastrophes.
The CTBTO is tasked with building and maintaining the Treaty's
verification regime
. Africa plays a key role in CTBT verification as the region with the largest number of States hosting International Monitoring System (IMS) facilities. Once complete, there will be 38 IMS facilities located in 24 African States – 21 seismic stations, 9 infrasound stations, 7 radionuclide stations and 1 radionuclide laboratory, see
interactive map
.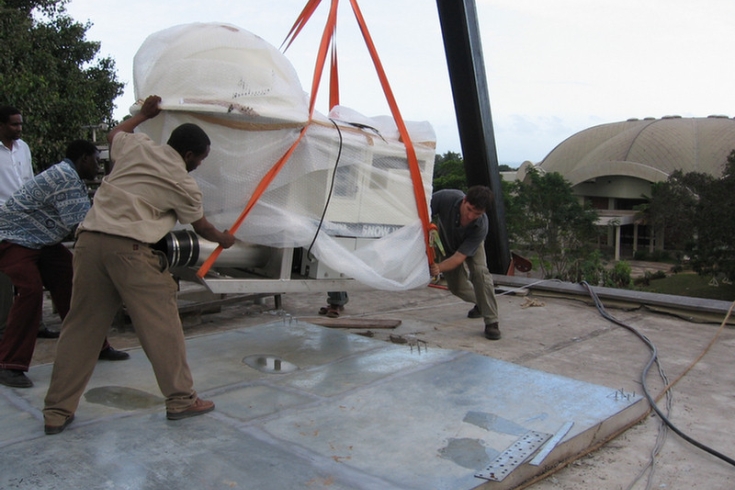 Even the least developed African country is entitled to receive the same monitoring data as the world's most developed country. This makes the CTBT the most democratic treaty in the world.
The data and analysis results are made equally available to all States Signatories. Through regular capacity building workshops, the CTBTO builds the expertise of developing countries, particularly in the use of monitoring data so that they can play an active role in CTBT verification. CTBTO data also have a wide range of
spin-off benefits
for disaster warning and scientific research, especially in the field of Earth sciences.
I want to share with you the story that a staff working at a National Data Centre told me the other day. He candidly explained to me that he was very sceptical when he was sent to attend one of our training programmes because he did not see the relevance of banning nuclear testing for his institution. But now, he went on, he uses our data and products to fight illegal dynamite fishing. I do not need to tell you how devastating this can be for the fishing industry and marine environment in many African countries.
Feedback from African participants of the CTBTO's capacity building programme

"It has been an amazing experience and I had the chance to learn more. I believe it is of crucial importance for us to meet other infrasound experts in order to advance with our researches. My country, Cameroon, is often affected by the explosion of crater lakes. During this workshop, I could compare findings on the topic with colleagues."

Parfait Noel Eloumala Onana – Researcher, University of Doula, Cameroon


"For my country, studying infrasound technology is of crucial importance. In particular, Africa is affected by volcanic eruptions and seismic activities. We need to keep on using the infrasound technology and make attempts in order to associate findings and characterize volcanic and seismic aspects."

Isaiah Tumwikirize - Geophysicist, Ministry of Energy, Uganda


 "Thanks to the CTBTO who gave me the chance to participate in this workshop, I'll go home with newly acquired knowledge and skills such as being able to access the IDC secure website. Now I can train my colleagues at the NDC when I get back."

Asnakech Estifanos Yifru – Addis Ababa University, Ethiopia


"The NDC development workshop has been an eye opener for the Ghana NDC. I have gained insight in the activities of other NDCs in Africa as well as the achievements and challenges we face. This has been a very rewarding workshop."

Paulina Ekua Amponsah – National Data Centre, Ghana


 "Before now, limited infrastructure and data analysis skills have continued to hinder the Nigerian NDC from carrying out the implementation of the requirements of the CTBT. The CTBTO's capacity building project support has gone a long way towards removing this hindrance."

Awwal Bisallah – Nigeria Atomic Energy Commission


"I have learned to use a completely new technique to analyse data – now I can differentiate between whether an event is natural, like an earthquake, or not such as a nuclear explosion. The fact that the group was so small with only nine participants allowed us to stop the trainers at any time if we had a question or problem, which was great."

Salomon Cesar Nguemhe Fils – Research Assistant in Image Processing Laboratory, Cameroon


"Courtesy of this one-month training course, we have conquered the fear of 'can we use the data?' Or 'can we run an NDC efficiently?' Every cent the EU and the CTBTO spend on capacity building is money very well spent. By looking at seismic activity we can see which roads have more heavy traffic and can plan where to use better materials and where to place buildings and houses around them."

Uchenna Onwuhaka Madu – Nigerian Atomic Energy Commission


"These workshops help NDCs to stay up to date with the latest technology, instrumentation and software being used by the IDC."

Leonard Rammutle Tabane – Technician, South Africa
As of today, we have provided assistance to 33 African countries in establishing functional National Data Centres...In total, 840 African scientists and technicians have been trained in our various technical and scientific training programmes.