CTBT one of the few areas where a difference can be made in the next years, Toth says
"I would like to call my voyage to Ireland a pilgrimage," Tibor Tóth, the Executive Secretary of the Preparatory Commission for the Nuclear-Test-Ban Treaty Organization (
CTBTO
), told a gathering of international affairs specialists in Dublin, Ireland, on 23 March  2010. Tóth pointed to Ireland's long-standing commitment to the non-proliferation regime, in particular to the 1958 Irish resolution that ultimately led to the Non-Proliferation Treaty (
NPT
). He also highlighted the fact that Ireland had been the first country to ratify the NPT, and commended Ireland's commitment to promoting the Comprehensive Nuclear-Test-Ban Treaty (CTBT). "There are very few areas in which a positive difference can be made in the next couple of years. The CTBT is probably the only one meaningful enough substance-wise and close enough to be delivered" said Tóth in his address to the Institute of International and European Affairs (
IIEA
). The IIEA, an independent, not-for-profit organization founded in 1991, is Ireland's leading European and international affairs policy analysis think tank. Its extensive research programme aims to provide high-level analysis and forecasts of the challenges faced both by global and European Union policy agendas.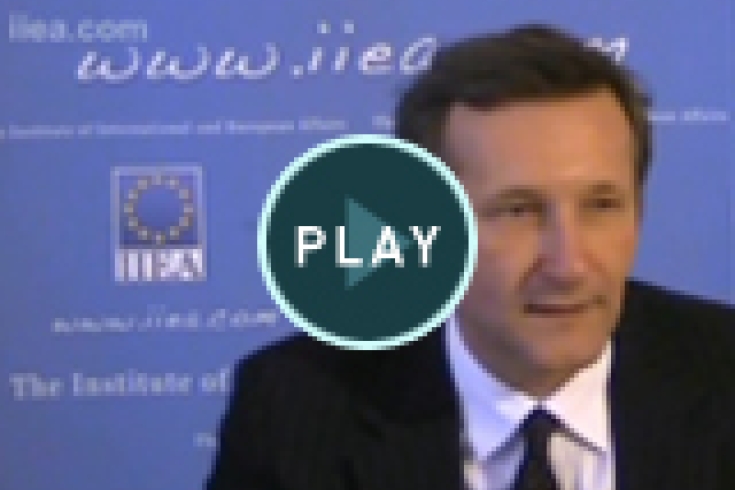 The CTBT: A glue for the Regime
Tóth's presentation focused on the capabilities of the $1 billion CTBT verification regime, with its International Monitoring System (IMS) comprising 337 facilities, employing four different technologies, and monitoring the planet from the poles to the tropics for evidence of nuclear testing. Emphasizing the importance of CTBT ratification by the remaining holdouts, Tóth likened the test ban to "a glue that binds together the different components of the [nuclear disarmament and non-proliferation] regime". Speaking on the importance of the CTBT in the NPT regime, Tóth said "the dotted lines are there for the remaining nine ratifications – and this […] could truly strengthen the regime."
Ireland: A strong supporter of the CTBT
Ireland signed the CTBT in 1996 and ratified it in 1999, and nuclear disarmament and non-proliferation have historically been among its key foreign policy objectives. "The CTBT is a critical step on the road to nuclear disarmament. I am concerned that almost fourteen years after its adoption by the UN General Assembly, the Treaty has yet to enter into force.  I am heartened by recent political momentum on the CTBT and again encourage the nine remaining States to immediately and unconditionally ratify the Treaty" Micheál Martin, T.D., the Minister for Foreign Affairs of Ireland, recently
told
the Geneva Conference on Disarmament.
The CTBT bans all nuclear explosions. The Treaty has been ratified by 151 States and signed by 182. China, the Democratic People's Republic of Korea, Egypt, India, Indonesia, Iran, Israel, Pakistan and the United States still have to ratify for the Treaty to enter into force. Another 35 States have either not signed (10 States) or not ratified (25 States) the Treaty.