CTBTO head meets French Foreign Minister Laurent Fabius
In his first official visit to Paris as the Executive Secretary of the Preparatory Commission for the Comprehensive Nuclear-Test-Ban Treaty (CTBTO), Lassina Zerbo met with French Foreign Minister Laurent Fabius on 19 December 2013. 
Fabius reconfirmed his country's support for the Comprehensive Nuclear-Test-Ban Treaty (CTBT), which he described as a central element of the nuclear non-proliferation and disarmament framework, and its organization. Fabius and Zerbo discussed strategies to make progress towards the Treaty's entry into force. In that context, Zerbo encouraged Fabius to seize opportunities in related political developments, for example in the framework of the Iran nuclear discussions.
Zerbo briefed Fabius on recent advances in the CTBT's
verification regime
and highlighted the fact that this was the only system worldwide to detect related noble gas and infrasound signals. Zerbo also expressed his gratitude for France's political, technical and scientific support. 
A working session with participation from the Ministry of Foreign Affairs, the Defence Ministry and the Alternative Energies and Atomic Energy Commission was chaired by Hélène Duchêne, Director for Strategic Affairs, Security and Disarmament in the Foreign Ministry. Issues discussed included how the Group of Eminent Persons (
GEM
) and its French member, Marc Perrin de Brichambaut, can act as a catalyst for the Treaty's entry into force as well as the status of CTBTO monitoring stations hosted by France.
A 
round-table discussion
 on the future of the CTBT with members of the adademia, civil society and the media was held at the Fondation pour la Recherche Stratégique (FRS).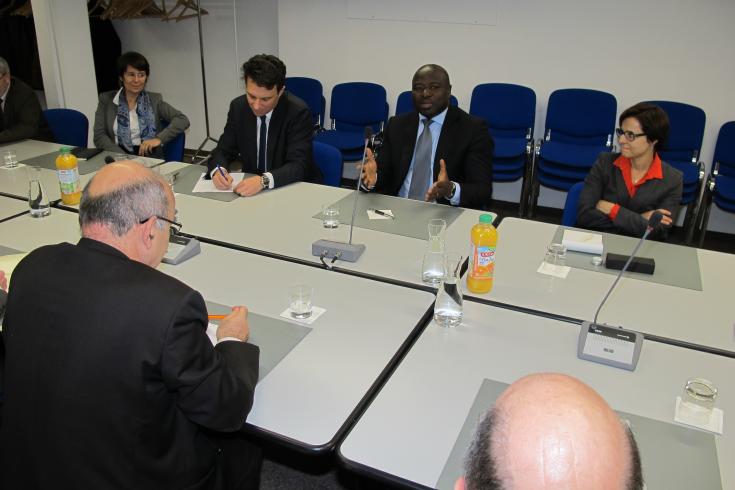 Background France signed the Comprehensive Nuclear-Test-Ban Treaty (CTBT) on 24 September 1996, the day it opened for signature. It was the first official nuclear weapon State to have ratified the CTBT (together with the UK) on 6 April 1998. It is the only nuclear weapon State to have permanently dismantled its nuclear test sites. With 17 monitoring facilities, France is one of the largest hosting countries of the CTBTO's
International Monitoring System
. France is also one of the largest financial contributors to the organization with a share of 6.2 % of the regular budget. Through the
European Union
, France has further made voluntary contributions that enable the CTBTO to refine its capability to detect nuclear explosions.
For an overview of France's cooperation with the CTBTO, see
here
.