CTBTO inks agreement with James Martin Centre for Nonproliferation Studies
The Preparatory Commission for the Comprehensive Nuclear-Test-Ban Treaty Organization (CTBTO) is to collaborate with an international centre for non-proliferation studies as the organization seeks to strengthen its capability to meet challenges to the Comprehensive Nuclear-Test-Ban Treaty (CTBT).

An agreement, with the James Martin Centre for Nonproliferation Studies (CNS) of the Monterey Institute of International Studies in California, was signed on Friday, 25 February, in Vienna by Tibor Toth, Executive Secretary of the CTBTO and Sunder Ramaswamy, President of the Monterey Institute.

The two organizations will develop a series of courses addressing the technical, scientific, political and legal challenges facing the Treaty and its verification regime.

The agreement is an element in the CTBTO's strategy for capacity development, which seeks long term political support for non-proliferation and disarmament by developing networks of partnerships and investing in expanded training activities.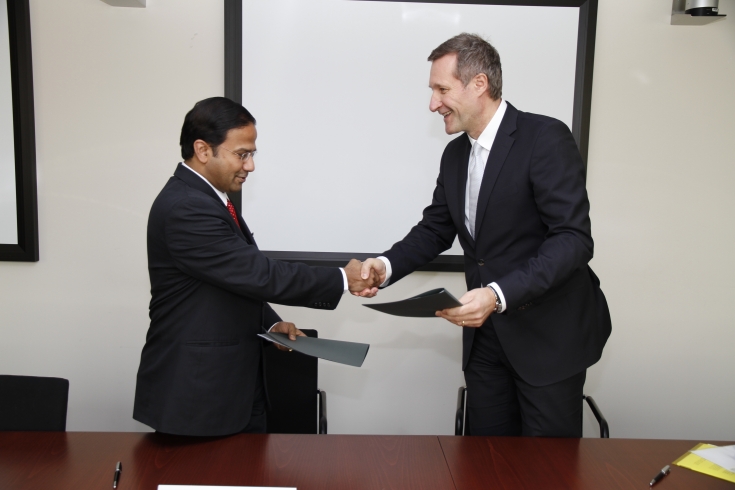 Vienna Centre on Disarmament and Non-Proliferation

The signing preceded the official opening of the new Vienna Centre on Disarmament and Non-Proliferation (VCDNP), which will be managed by CNS.

The VCDNP is an initiative of Austrian Foreign Minister Michael Spindelegger. He told the opening ceremony that it would encourage open and constructive dialogue between governments, organizations and civil society. "I'm optimistic that the Centre will stimulate the debate in Vienna and contribute effectively to the international discourse on disarmament and non-proliferation issues," he said.

Tóth said at the event that there is a need for "an army of experts instead of experts of (the) army. There is a need to mass produce hundreds if not thousands of people who have an expertise in general on issues of disarmament, non-proliferation and arms control but specifically on the issue of nuclear weapons prohibition," he said.

Yukiya Amano, Director General of the International Atomic Energy Agency (IAEA), said that the VCDNP will make an important contribution to maintaining and strengthening the momentum towards achieving a world free of nuclear weapons. Disarmament and non-proliferation education have a special role to play, he said.

Bill Potter, Director of CNS, said that to make headway in promoting nuclear risk reduction, it is vital to foster an informed and active civil society and to invest in disarmament and non-proliferation education and training.

"We look forward to working closely with the Austrian Foreign Ministry and our very good friends in Vienna-based international organizations in strengthening the role of civil society in this great city and helping to transform Vienna into a vibrant and leading hub of non-governmental expertise in and activity on disarmament and non proliferation matters," he said.