CTBTO Member States observe minute of silence for victims of terror attacks
The Preparatory Commission, the highest decision making body of CTBTO Member States, is meeting in Vienna, Austria, from 16 to 18 November 2015 under the chairmanship of Ambassador Abel Adelakun Ayoko of Nigeria.


At 12.00 on 16 November 2015, Member States observed a minute of silence to honour the victims of the terrorist attacks on Ankara, Turkey, on 10 October, the crash of the Russian flight 7K9268 over Egypt on 31 October, the bomb attacks on Beirut, Lebanon on 12 November and the terrorist attacks on Paris on 13 November 2015.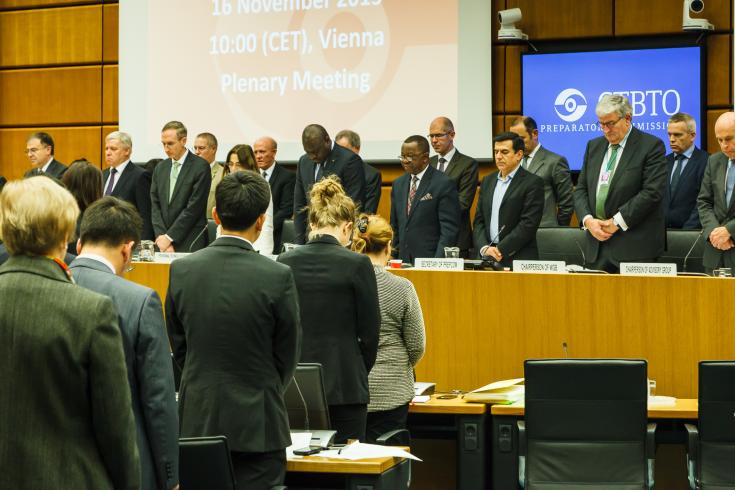 I join the chairperson of the Commission in expressing my sorrow over the death of hundreds of innocent people in the Russian plane crash and the terrorist attacks at Turkey, Lebanon and France.
In his
opening statement
(PDF), CTBTO Executive Secretary Lassina Zerbo reported on the organisation's achievements over the past two years, including further enhancing the coverage of the International Monitoring System and data availability, for example through the
reconstruction of hydroacoustic station HA03
at Juan Fernandez Island, Chile, and through securing the cooperation of more countries in establishing and operating stations. The total number of installed facilities now stands at 301 (of a total of 337), or 89 percent.
Zerbo also highlighted the
Integrated Field Exercise
in Jordan in late 2014, and the
Science and Technology 2015
conference in Vienna, Austria as well as the creation of the
Group of Eminent Persons (GEM)
.
The PrepCom also adopted the principle of biennial budgeting and a multiyear funding modality to enhance financial stability, long term and smart planning and efficient programme implementation. The 2016 budget will amount to around US$ 128 million. In this context, the Executive Secretary outlined planned additional efficiency gains and savings, anticipated to reach up to $3.0 million each year.