Delegations from around the world attend the 20 Years CTBT Ministerial Meeting
On 13 June 2016, over a hundred and twenty delegations including States Signatories, non-Signatory States and Observers, heads of International Organizations, and members of civil society attended the opening of the
20 Years CTBT Ministerial Meeting
in Vienna, Austria. The Ministerial Meeting brings together leaders and policymakers to discuss, review, and reinvigorate the discussion on the
entry into force
of the Comprehensive Nuclear-Test-Ban Treaty (CTBT).
Statements of support for the CTBT's entry into force were provided to the opening session from, among others,
Ban Ki-moon
, United Nations Secretary-General, delivered by Kim Won-soo, United Nations Under-Secretary-General and High Representative for Disarmament Affairs;
Federica Mogherini
(
video
), High Representative for Foreign Affairs and Security Policy of the European Union;
Laz?r Com?nescu
, Minister for Foreign Affairs of Romania;
Erlan Idrissov
, Minister of Foreign Affairs of Kazakhstan; and
Sebastian Kurz
, Minister for Europe, Integration, and Foreign Affairs of Austria.
We have to end the toxic legacy of nuclear testing. We have to free future generations from the shadow of weapons that can destroy all life. The United Nations will keep pressing to end nuclear tests and help fulfil the promise of a nuclear-weapon-free future.
UNSG quote tweet
#UNSG video message to #CTBT20 Ministerial: States that have yet to ratify the #CTBT should be leaders, not followers.

— CTBTO (@ctbto_alerts) June 13, 2016
"Nuclear tests not only poison the environment, they also poison the political climate. They breed mistrust, isolation and fear", Lassina Zerbo, Executive Secretary of the CTBTO, told the audience. "Let's meet again, sometime in the not too distant future, to finally celebrate the first of many happy anniversaries of the Treaty's entry into force." (
full speech - PDF
)
Federica Mogherini also gave a
rallying call
to the participants to witness the entry into force of the CTBT. "The CTBT is an effective measure in nuclear non-proliferation and disarmament", Mogherini told the audience. "Signing and ratifying the CTBT can be an important step for States who want to deepen their integration in the international community."

A message by U.S. President Barack Obama was delivered by Rose Gottemoeller, Under Secretary for Arms Control and International Security: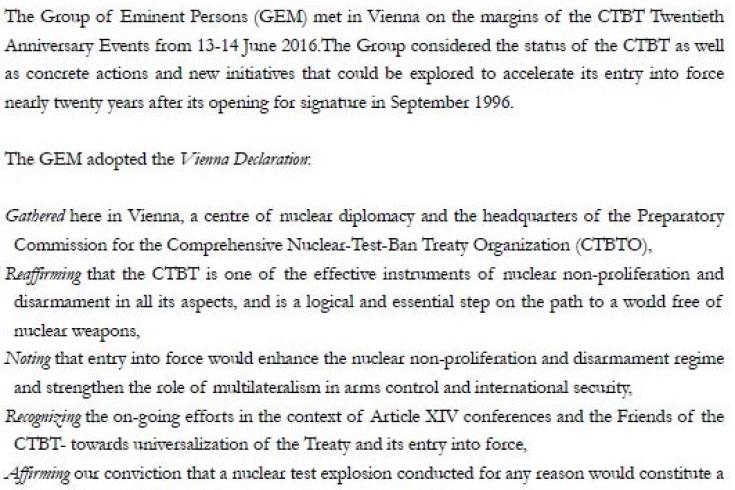 Tariq Rauf tweet
China, Russia & US should shut down their #nuclear test sites, as France has, says @SIPRIorg's Tariq Rauf. It would send a strong message.

— CTBTO (@ctbto_alerts) June 13, 2016
An exhibition in the Vienna International Centre's Rotunda was opened which offeres a hands-on experience with
on-site inspection
equipment not made available to the public before; the 360 ? virtual reality film installation "
Collisions
", featuring an Australian indigenous elder who experienced nuclear testing in his homelands (from 13 to 17 June) as well as artworks and photography inspired by the issue of nuclear testing from China, Kazakhstan and other countries.