Executive Secretary meets Swedish Foreign Minister
CTBTO head Lassina Zerbo met Swedish Foreign Minister Margot Wallström in Stockholm, Sweden. Zerbo briefed Wallström on recent advances in the verification regime, including the Integrated Field Exercise
IFE14
in Jordan and the subsequent
workshop
to evaluate the exercise in Israel.
They also discussed the role the nearly universally accepted Comprehensive Nuclear-Test-Ban Treaty (CTBT) can play in bridging gaps at the upcoming Nuclear Non-Proliferation Review Conference in New York, United States. See also Zerbo's
keynote address
(PDF) at the 1 April workshop by the Stockholm International Peace Research Institute (SIPRI) in Vienna.
Disarmament superpower Sweden is a driving force behind the test ban. The Swedish Unattended Noble Gas Analyzer, SAUNA, is one of the key technologies used to detect traces of radioactive noble gases.
In this context, Zerbo stressed the need for renewed political leadership to advance the entry into force of the CTBT and highlighted the role that women have traditionally played in advancing nuclear disarmament, including through generating support from civil society. He also reported the gradual increase in women scientists working at the CTBTO, see
statement
(PDF) at this year's International Women's Day event at the UN Vienna. Wallström pointed out that she had personally campaigned against nuclear testing in the 1990s and intended to make nuclear disarmament a priority for Sweden as foreign minister.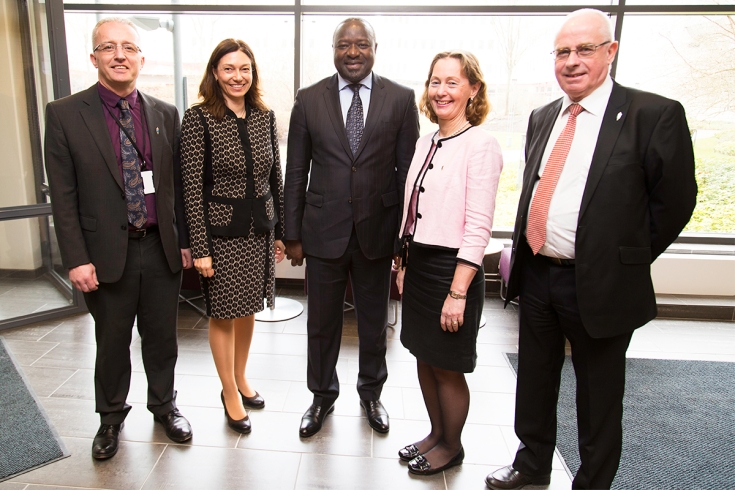 Zerbo also met former Minister for Foreign Affairs and
GEM
Member Hans Blix and Anna-Lena Österborg, Deputy Director General at the Swedish Defence Research Agency (FOI). At FOI, Zerbo saw a demonstration of Sweden's scientific contribution to the work of the CTBTO, a Swedish Unattended Noble gas Analyzer (SAUNA) to detect traces of radioactive noble gases, a tell-tale sign of a nuclear explosion.