Joint appeal by Minister for Foreign Affairs of Japan, Taro Kono and CTBTO Executive Secretary Lassina Zerbo
5 July 2018
On 5 July, H.E. Taro Kono, Minister for Foreign Affairs of Japan and Lassina Zerbo, Executive Secretary of the Comprehensive Nuclear-Test-Ban Treaty Organization (CTBTO) made a joint
appeal
  underlining the vital importance of the Comprehensive Nuclear-Test-Ban Treaty (CTBT) in the framework of the international nuclear disarmament and nonproliferation regime. In it, they stated that "[i]t is required in relevant United Nations Security Council resolutions the Democratic People's Republic of Korea (DPRK) to achieve complete, verifiable, and irreversible dismantlement (CVID) of all nuclear weapons. In support of the international efforts, we reiterate our call for the DPRK to sign and ratify the Comprehensive Nuclear-Test Ban Treaty (CTBT)."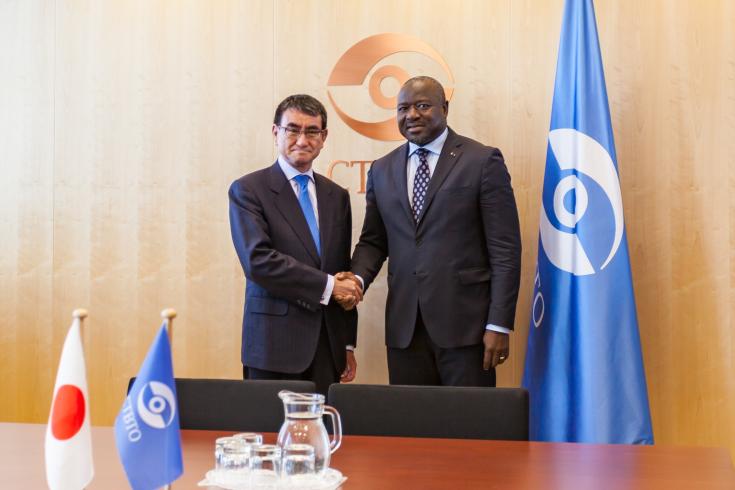 We acknowledge that the CTBT verification regime is functioning and effective as designated by the Treaty, as is clearly shown in the detection of the six nuclear tests by North Korea, and reaffirm our commitment to the further build-up of all elements of the verification regime.
The Executive Secretary welcomed Minister Kono's second visit to CTBTO headquarters in Vienna, Austria, this year, and greatly appreciated Japan's strong support for the CTBT and its verification regime. Zerbo highlighted the historic US-DPRK Summit in Singapore as a truly significant step forward for international peace and security, and emphasized that the CTBTO stands ready to provide its technical expertise to contribute to the complete, verifiable and irreversible dismantlement of DPRK nuclear test sites.

Minister Kono re-emphsized Japan's strong desire to see the CTBT enter into force as soon as possible, and pledged to continue working with Member States and the remaining Annex 2 countries, including the the Democratic People's Republic of Korea (DPRK),  to advance that goal.

The Executive Secretary also restated the importance of DPRK's adherence to the CTBT which would be an important milestone towards entry into force.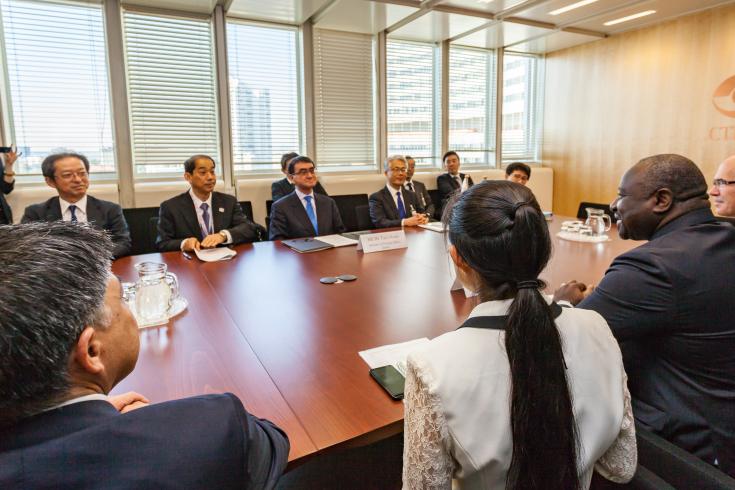 Japan
has been a significant player for the regional and international initiative to promote the CTBT and its verification regime as a core element of the international nuclear disarmament and nonproliferation. Minister Kono acknowledged that all six nuclear tests conducted by the DPRK were accurately detected by the International Monitoring System (IMS) and International Data Centre (IDC) as designed by the Treaty. Japan has supported all aspects of the Treaty's verification regime and reaffirmed its strong commitment to realizing a world free of nuclear weapons.
In February 2017, the Government of Japan made a
voluntary contribution
of US$ 2.43 million to the CTBTO to further enhance and refine its verification abilities.