Kazakhstan reaffirms commitment towards reducing nuclear threat
"The cooperation with your organization is part of Kazakhstan's efforts to work towards the reduction of the nuclear threat", Kanat Saudabayev, Secretary of State and Minister of Foreign Affairs of Kazakhstan, stated during a visit to the Preparatory Commission for the Comprehensive Nuclear-Test-Ban Treaty Organization (CTBTO) on 13 January 2010.

Impressive track record

At a time when words need to be turned into deeds, "Kazakhstan is showing an important example to all of us", Tibor Tóth, the Executive Secretary of the CTBTO, stressed.  "Kazakhstan has an impressive track record in all aspects relating to nuclear nonproliferation and disarmament, the nuclear test ban and nuclear weapon free zones", he added.

One of Kazakhstan's first initiatives when gaining independence in 1991 was to renounce the stockpile of nuclear weapons that was part of the legacy of the Soviet Union, and to become a non-nuclear weapon State under the Nuclear Nonproliferation Treaty (NPT).  In the same year the former Soviet Union nuclear test site at Semipalatinsk was closed down.  Kazakhstan also played a leading role in the establishment of the Central Asian Nuclear Weapons Free Zone which was established in 2006.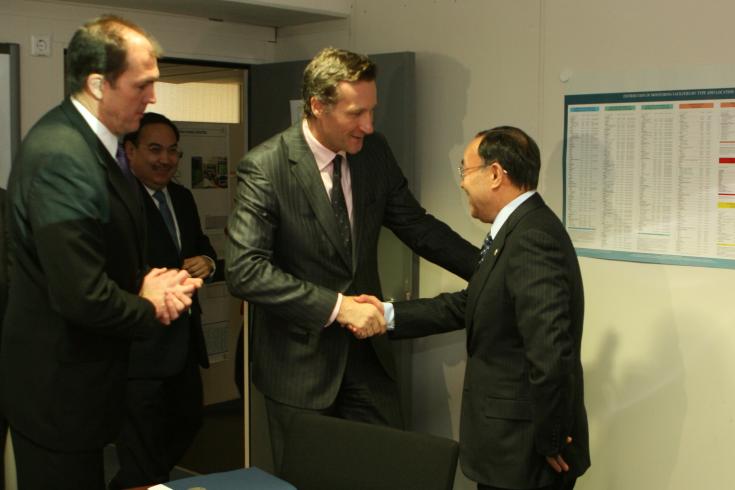 Continued support needed

Tóth emphasized that Kazakhstan's involvement in the area of nuclear non-proliferation and disarmament continues to be needed.  He added that this was particularly significant this year when positive conditions prevail towards securing necessary ratifications by nuclear technology States for the entry into force of the Comprehensive Nuclear-Test-Ban Treaty (CTBT).  Milestone events conducive to garnering support for the Treaty are the second conference of nuclear weapons free zones in April which will take place in April at the United Nations in New York and the upcoming NPT review conference in May.

Tóth also referred to a forthcoming CTBT regional event which will take place in March in Ulaanbaatar at the invitation of Mongolia.  Representatives of States from Central Asia – including Kazakhstan – and the wider Asian-Pacific region will gather to gain a deeper understanding of political and technical aspects of the Treaty.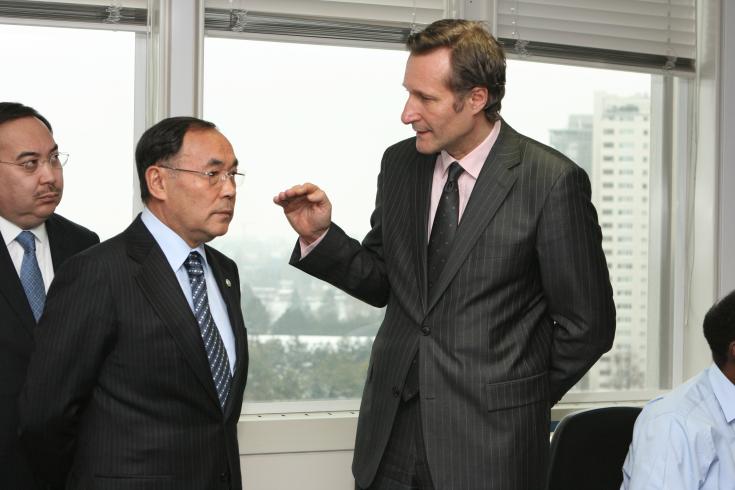 Long history of cooperation with CTBTO

Kazakhstan's commitment to the CTBT dates back to 1996 when it signed the Treaty only four days after it opened for signature.  Five international monitoring stations – part of a world-wide global alarm system to detect nuclear explosions – are located on Kazakhstan's territory.  For an entire month in 2008, the largest ever exercise to test the CTBT's on-site inspections regime was conducted at the former nuclear test site at Semipalatinsk.  


OSCE chairmanship in 2010

On 1 January 2010, Kazakhstan assumed the chairmanship of the Organization for Security and Cooperation in Europe.  In this capacity, the country is in a leading position to continue its contribution to international peace and security with particular emphasis on nuclear non-proliferation and disarmament.