Large Indonesian parliamentary delegation visits CTBTO in preparation for ratification
A large group of members of the Indonesian parliament visited the Preparatory Commission for the Comprehensive Nuclear-Test-Ban Treaty Organization (CTBTO) on 22 November. This was the country's third parliamentary delegation following earlier visits in
June 2010
and
May 2011
. The group consisted of ten members of the Indonesian parliament's Defense and Foreign Policy Commission, representing seven political parties from both the government and opposition, as well as two high-ranking officials from the Indonesian Ministry of Foreign Affairs (
top image, from right to left: Mohammad Syahfan Badri SAMPURNO, Paskalis KOSSAY, Guntur SASONO, Roy Suryo NOTODIPROJO, Muhammad NADJIB, Ambassador I Gusti Agung Wesaka PUJA, Susaningtyas Nefo Handayani KERTOPATI, CTBTO Executive Secretary Tibor TÓTH, Mahfudz SIDDIQ,  Helmy FAUZY, Ahmad Effendy CHOIRIE
).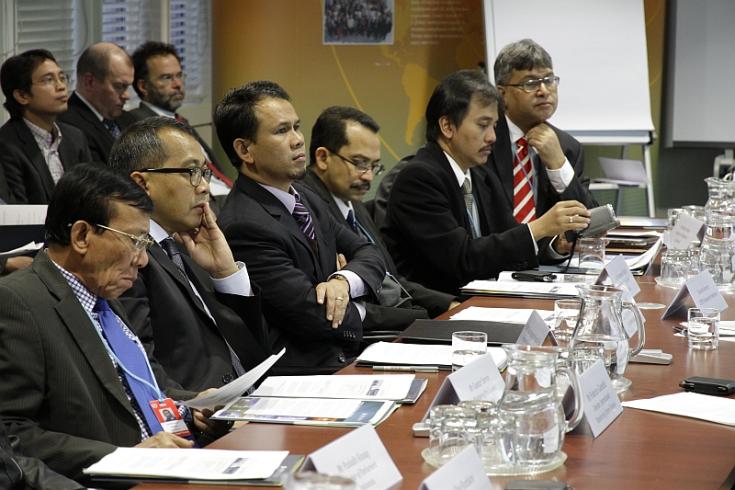 Ratification of the CTBT can be expected in the very near future, possibly in the next couple of weeks. It is in our best security interest. The CTBT is an integral part of Indonesia's concept of making South-East Asia a zone of peace, freedom and neutrality.
The group was briefed by CTBTO Executive Secretary Tibor Tóth and senior staff members on the ongoing build-up of the
verification regime
of the Comprehensive Nuclear-Test-Ban Treaty (CTBT). They also visited the International Data Centre's (
IDC
) Operations Centre.
The group emphasized that ratification of the CTBT is supported by all political parties including the two that were not part of the delegation. This is reflected by the fact that, contrary to normal practice, the coordinator for the parliamentary CTBT ratification process - Helmy Fauzy from the
Indonesia Democratic Party Struggle (PDIP)
- is from an opposition party. According to Fauzy, the visit served to further consolidate this consensus and will help to educate stakeholders beyond the Defense and Foreign Policy Commission.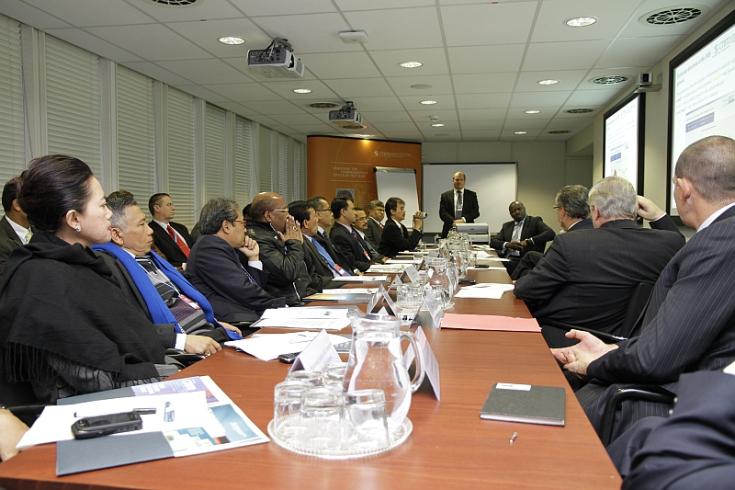 We need your strong and continued leadership. Indonesia is one of the founding members of the Non-Aligned Movement.
Indonesian cooperation with the CTBTO
Indonesia is closely involved in the CTBTO's activities in many ways. Apart from strong political support for the CTBT's entry into force, the country hosts six fully operational seismic stations of the
International Monitoring System
(IMS), concluded a
tsunami warning arrangement
with the CTBTO in 2008 and regularly hosts technical meetings on the CTBT verification regime such as the upcoming noble gas workshop from 6 to 10 December 2011 in Yogyakarta, which is funded by the European Union. In addition, a number of key CTBTO staff members are Indonesian nationals.
We intend to extend our involvement in the CTBT beyond the Treaty's ratification. Indonesia will use its good relations to promote the Treaty in the Asia-Pacific region and beyond and at the highest political level. We want our country to be at the vanguard of nuclear disarmament and non-proliferation.
Background on Indonesia and the CTBTO
Indonesia signed the CTBT on 24 September 1996, the very day the Treaty opened for signature. In May 2010, Indonesian Foreign Minister Marty Natalegawa announced Indonesia's intention to ratify the CTBT. Indonesia is one of nine remaining States that must ratify before the Treaty can enter into force. The other countries are China, Egypt, Iran, Israel and the United States, which have already signed the CTBT, as well as the non-signatories Democratic People's Republic of Korea, India and Pakistan.
Indonesia is the 2011 chair of the Association of Southeast Asian Nations (ASEAN). Read our
brochure (PDF)
for an overview of the status of ASEAN countries and their commitment to the Treaty's entry into force.