Media workshop in Beijing focuses on disarmament education
 "It must not be forgotten that of greatest immediate importance is the Comprehensive Nuclear-Test-Ban Treaty (CTBT)… The principal
quid
for the
quo
of most nations of the world to never acquire nuclear weapons [under the Nuclear Non-Proliferation Treaty (NPT)] was the test ban. It is the only arms control agreement explicitly mentioned in the NPT and it is the most significant commitment made by the nuclear weapon States [to bring about their part of the bargain and disarm their nuclear arsenals]." The remarks by Thomas Graham, former Special Representative on arms control issues to the President of the United States, were made to a workshop in Beijing, China on "Strengthening the Capacity of the Media in Advocating and Promoting Peace and Disarmament in Asia and Pacific", from 20 to 21 January 2011. Nearly 20 journalists from the Chinese news media participated, together with reporters and editors from Indonesia, Japan, Malaysia, North Korea, the Philippines, Singapore, South Korea, Thailand and Vietnam, as well as international experts on arms control and security policy issues. It was the first time that such an extensive capacity building workshop for journalists from this region on non-proliferation and disarmament issues had been arranged. The workshop was organized by the
UN Regional Centre for Peace and Disarmament in Asia and the Pacific
together with the Chinese Ministry of Foreign Affairs and the China Arms Control and Disarmament Association (CACDA).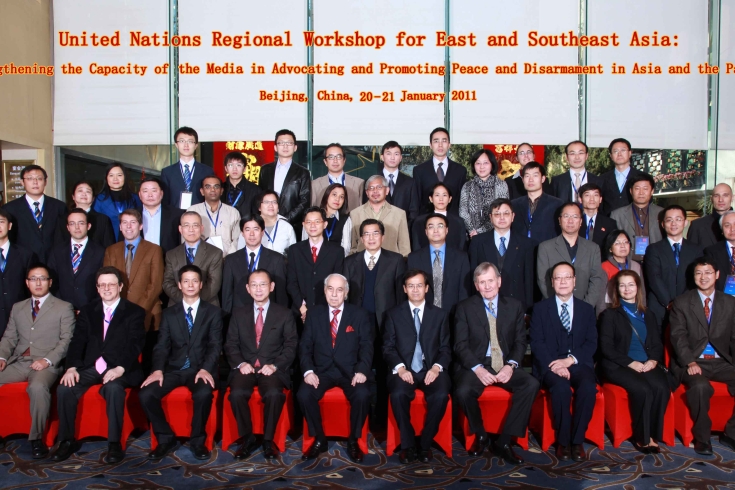 CTBT singled out as one of four priority issues
The CTBT was singled out for in-depth presentation and discussion, together with four other priority issues.  The other topics were Weapons of Mass Destruction and Terrorism, Space Security, and Small Arms and Light Weapons. Cheng Jingye, Director-General for Disarmament at the Chinese Foreign Ministry, said that "China supports an early entry into force of the CTBT" and "will continue to make active efforts to this end." Sergio Duarte, UN High Representative of Disarmament Affairs, referred to the UN Secretary-General's five point proposal for achieving global nuclear disarmament, which includes the entry into force of the CTBT. Spokesperson of the Preparatory Commission for the Comprehensive Nuclear-Test-Ban Treaty Organization (CTBTO), Annika Thunborg, said that over 2000 nuclear explosions had been carried out worldwide before testing screeched to a halt with the opening of the CTBT for signature in September 1996. Since then, 182 countries have signed it, of which 153 have also ratified it. Such near universality has made the Treaty a de-facto international norm, and as such, it was applied by the UN Security Council when India and Pakistan tested nuclear devices in 1998, and when North Korea tested in 2006 and 2009. Despite this, the Treaty has still not entered into force and awaits ratifications by nine additional nuclear holding countries: China, the Democratic People's Republic of Korea (DPRK), Egypt, India, Indonesia, Iran, Israel, Pakistan and the United States. Indonesia officially announced in April 2010 that it was moving forward with ratification and the Indonesian House of Representatives is considering a bill for approval of the Treaty. The near completion of the CTBT verification regime was also explained, including its reliable and precise performance when North Korea declared nuclear tests in 2006 and 2009. "If the Treaty is a non-discriminatory and comprehensive legal norm, banning all nuclear explosions regardless of their yield," Thunborg said, "the data access and distribution transmitted from the CTBTO monitoring system is also equal: all CTBTO Member States have the right to the same information, regardless of their size or whether they are nuclear weapon States or not." [link to Thunborg's PowerPoint presentation]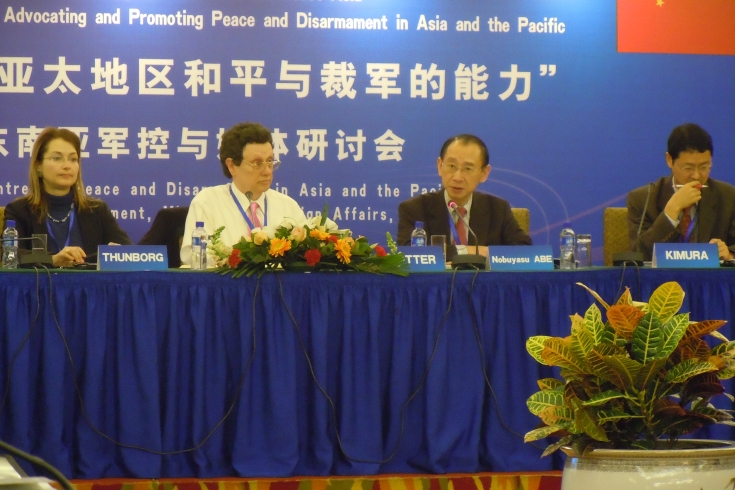 China and the United States pledge to work together for the early entry into force of the CTBT
The workshop took place on the eve of President Hu Jintao's visit to the United States. After Presidents Hu and Obama met on 19 January 2010, they reaffirmed in their joint statement that "both sides support early entry into force of the Comprehensive Nuclear-Test-Ban Treaty (CTBT)," and agreed to work together to reach this goal. "It is important and positive […] that the U.S. and China are working better together, as evidenced by the meeting this week between Presidents Hu and Obama in Washington. Success [on nuclear non-proliferation and disarmament] will resume worldwide cooperation," Graham told the Beijing workshop. "Great damage to the disarmament process has been sustained in recent years and the proliferation crises seem to grow steadily more dangerous. But while the hour is growing late, it is not too late. Success remains possible; that safer and more secure world that all of us want can still be built," he said.