Rallying support for the Treaty ahead of next week's conference
The strong political momentum currently enjoyed by the Comprehensive Nuclear-Test-Ban Treaty (CTBT) featured in many discussions of Tibor Tóth, the Executive Secretary of the Preparatory Commission for the Comprehensive Nuclear-Test-Ban Treaty Organization (CTBTO), over the last week.

On the margins of the General Conference of the International Atomic Energy Agency taking place in Vienna, Tóth met with several ministers, deputy ministers and other senior political leaders, from a number of countries including Ghana, Indonesia, Iraq, Israel, Italy, the Philippines, Serbia and the United States.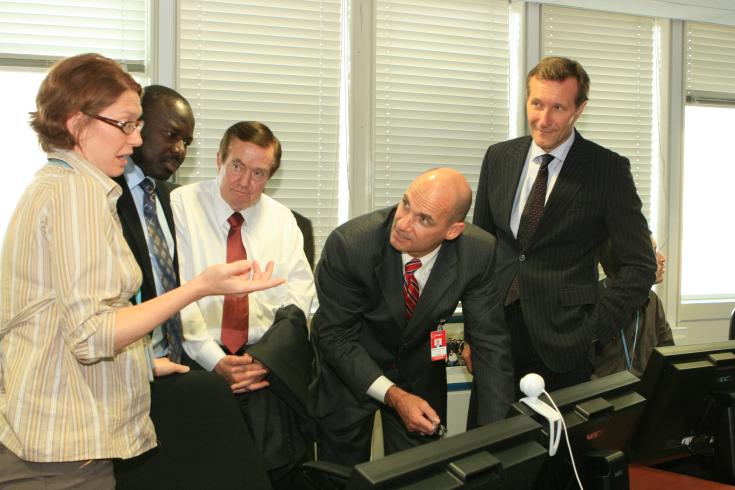 CTBT conference – unique opportunity
Tóth spoke about the upcoming conference to promote the CTBT and its entry into force, which is going to take place on 24 and 25 September 2009 in New York, as a unique opportunity to rally support for the Treaty.  He also explained that the UN Security Council meeting at heads-of-state level on 24 September – the first of its kind since 1992 – is expected to have a significant effect on efforts to bring the CTBT in force.

In his discussions, Tóth described the achievements in the build-up of the CTBT verification regime, which now stands at almost 250 monitoring installations all over the world and which has been "tried and tested".  Tóth also described the possibilities in the application of CTBT verification data and technologies in the civil and scientific realm, with the tsunami warning agreements which have already been concluded with several countries providing a remarkable example.
Countries announce progress in ratification process
Sherry Ayittey, Minister for Environment, Science and Technology of Ghana, informed Tóth that ratification of the Treaty by her country was imminent. Similar positive news was announced by Joao Baptista Borges, Deputy Minister for Energy of Angola, who advised Tóth that the CTBT would soon be passed on to Parliament for further consideration.

Tóth also met with Raid Jahid Fahmi, Minister for Science and Technology of Iraq, who informed him of progress in the country's ratification process. The discussion also touched on technical issues such as the possible opening of a national data centre in Iraq and the country's access to monitoring data and analysis reports.
Focus on ASEAN countries
In his meetings with Triyono Wibowo, Deputy Minister of Foreign Affairs of Indonesia, and Librab Cabactulan from the Philippines, President-elect of the 2010 Review Conference of the Treaty on the Non-Proliferation of Nuclear Weapons (NPT), Tóth requested support to promote signatures and ratifications of the Treaty in remaining ASEAN countries.

On 15 September 2009, Tóth met with U.S. Administrator for Nuclear Security Thomas D'Agostino who visited the CTBTO and acquainted himself with the CTBT verification regime.  D'Agostino and Tóth discussed the U.S. National Academy of Sciences' study, which will assess the detection capabilities of the CTBT. The study  has just been commissioned to provide relevant information to policy makers.