Special Universalization Outreach Effort
Representatives of nine countries that have yet to sign and/or ratify the Comprehensive Nuclear-Test-Ban Treaty (CTBT) participated in an information visit to the Preparatory Commission for the Comprehensive Nuclear-Test-Ban Treaty Organization (CTBTO) from 7 to 10 June 2011. The group consisted of high-ranking diplomats and officials from the Comoros, Cuba, Mauritius, Myanmar, Nepal, Sao Tome and Principe, Solomon Islands, Sri Lanka and Swaziland, most of whom came into contact with the CTBTO for the first time.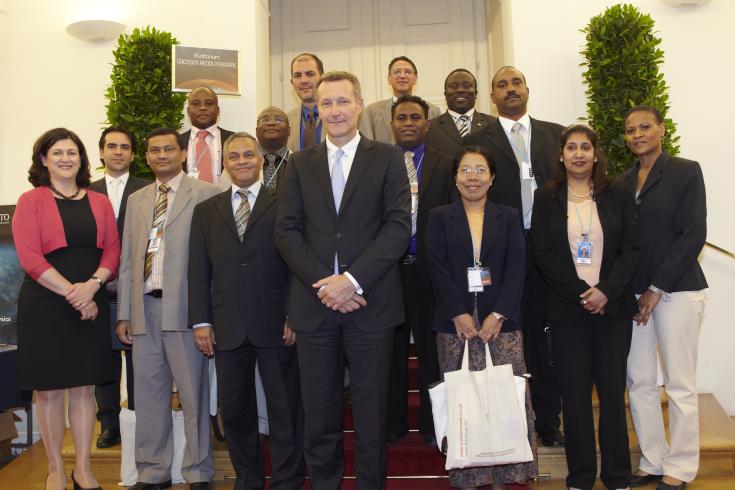 Your ratification would be a very strong message in particular to the Annex 2 States.
The group was initially addressed by the ambassadors of the UK and Morocco and a representative of France, who encouraged them to strive for their country's accession to the CTBT. Apart from an in-depth presentation of political and verification aspects of the Treaty, including through national implementation, the group visited the International Data Centre and the radionuclide rooftop station.
We are convinced that this Treaty can make a significant change for nuclear disarmament and non-proliferation. This is a Treaty to which your commitment really counts.
The Hungarian Permanent Mission to the CTBTO hosted a roundtable discussion on civil and scientific application of the CTBT's verification regime, in which representatives of other CTBTO Member States also participated. Several members of the group, in particular those from island States, expressed interest in the CTBTO's contribution to tsunami warning. The group also took part in the
Science and Technology 2011 Conference
at the Hofburg in Vienna from 8 to 10 June. The participants expressed their appreciation to the organization for the visit and for the greater understanding of the CTBT and its technologies that they had acquired. They announced their intention to share the information with the relevant ministries and institutions in their respective countries.
This is not a numbers game that serves as a scorecard to admonish. On the contrary, universalization of the Treaty will serve as a statement of profound importance for future generations to come. It will also show that the CTBT is not just a Treaty for the technologically advanced States.