Spreading the word – Pakistani journalists visit the CTBTO
On 5 April, the Comprehensive Nuclear-Test-Ban Treaty Organization welcomed broadcast journalists from Pakistan to its headquarters in Vienna to inform and discuss the work of the Organization. The journalists were part of a workshop for journalists on non-proliferation organised by the
Vienna Centre for Disarmament and Non-Proliferation
.
Pakistan is one of two countries, along with India, who have yet to sign the Comprehensive Nuclear-Test-Ban Treaty (CTBT) in the South Asia region. These two countries, along with 6 other
Annex 2 states
, need to ratify the Treaty before it can enter into force.
"Nuclear explosions are a thing of the past. Pakistan can take leadership in ensuring the Comprehensive Nuclear-Test-Ban Treaty enters into force."
 CTBTO Executive Secretary Lassina Zerbo addressed the group and highlighted how the Treaty can bring stability and peace to the South Asia region and globally once both Pakistan and India decide to sign. "The world changes immediately if Pakistan and India sign the CTBT" Zerbo said. "The small step of signing the CTBT would be important in building confidence in the region and creating international momentum behind the Treaty."
The Pakistani journalists were also taken on a tour of the
International Data Centre (IDC)
, the nerve centre from where data recorded by the CTBTO's
International Monitoring System (IMS)
is processed. In addition to detecting nuclear explosions, these data can also be used for analysing earthquakes, providing advanced warning of tsunamis, and a wide range of other
applications
.  Pakistan, who holds an 'observer' status to the Treaty's decision-making body, the Preparatory Commission, is currently unable to access IMS data as a non-member of the Treaty.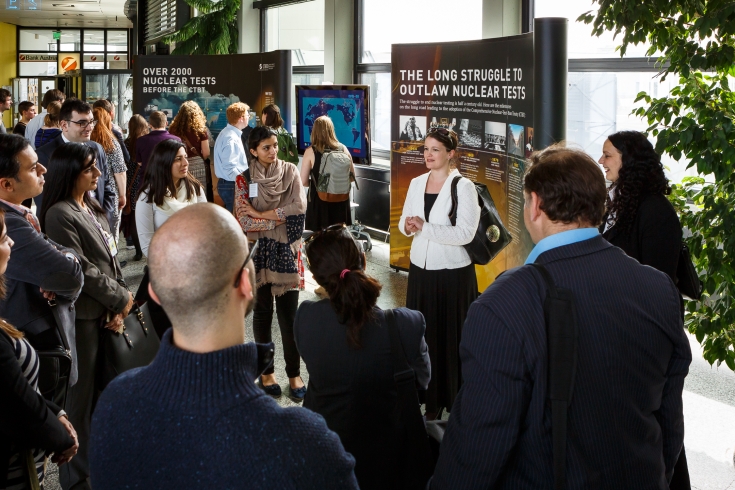 "Nuclear explosions are a thing of the past; Pakistan has not tested in 18 years" Zerbo added. "Pakistan will gain access to the invaluable information provided by the IMS and gain trust within international fora by signing the CTBT."

Zerbo also appealed to the journalists to highlight and create awareness of the CTBT on this, the 20th anniversary year of the Treaty's opening for signature. "On 13 June 2016, a High Level Ministerial meeting will be held in Vienna to discuss the status of the Treaty. I invite my colleagues from Pakistan to attend and present their views on the Treaty so we can discuss the issues currently blocking progress."