Strengthening Verification, Enhancing Security: The Science and Political Significance of the CTBT
Introduction Course on the Comprehensive
Nuclear-Test-Ban Treaty (CTBT)
5-9 September 2011
Vienna, Austria

The Preparatory Commission for the Comprehensive Nuclear-Test-Ban Treaty Organization (CTBTO) is holding an Introductory course on the CTBT entitled "Strengthening Verification, Enhancing Security: The Science and Significance of the CTBT." The course is part of the CTBTO's capacity development initiative, launched with the objective of training and educating experts on the Treaty and its monitoring technologies. Participation in the course was free of charge and interested parties were invited to participate in person or virtually through a live stream of the class lectures.

(DOC)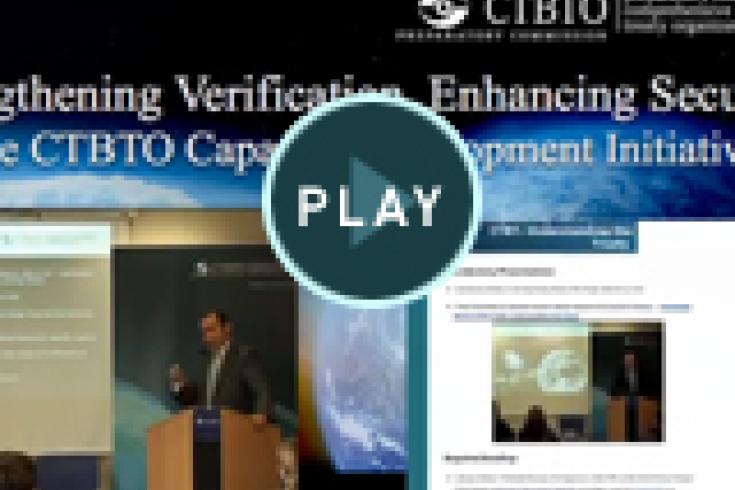 Course Structure

Modules: Participants were advised to complete a series of online pre-course modules and accompanying quizzes by 1 September 2011 in order to fully benefit from the course. These pre-course modules, each built around a distinct issue area, were approximately 15-20 minutes in length, and provided the necessary background knowledge to enable participants to take part in in-depth classroom discussions.


Lectures: Live lectures are being held each afternoon from 5 through 9 September 2011 between 14:00 and 18:00. For those unable to attend the course in person, the lectures are live-streamed, as well as archived for viewing at a later date. Those participating "virtually" can also download presentations and additional materials.


Optional Tours: Course participants were also invited to take part in tours of the CTBTO's technical facilities on the mornings of 8 or 9 September.

Background
There is an urgency to invest in the next generation of disarmament and non-proliferation specialists by increasing the awareness and understanding of the international nonproliferation framework. The Capacity Development Initiative (CDI) is based on the recognition that building and maintaining the necessary capacity, particularly in the developing world, to effectively confront the technical, scientific, political, and legal challenges facing the multilateral nonproliferation and disarmament regime is of critical importance now as it will be in the years to come.
The CTBTO will be holding an advanced technical course in the fall of 2011 as the next component of the CDI, which will examine in depth the scientific and technical aspects of the Treaty's verification regime, as well as, inter-alia, national implementation measures, specific verification related issues, procedures for on-site inspections, and the role and functions of the future Executive Council. Similar to the introductory course, the advanced live lecture courses will be streamed in real time from Vienna for those who wish to participate virtually, and the lectures will be archived within the online distance learning platform for viewing at a later date.