Turkey joins CTBTO tsunami watch
Turkey today became the eighth State to enter into an agreement with the Preparatory Commission for the Comprehensive Nuclear-Test-Ban Treaty Organization (CTBTO) to receive tsunami warning data.

The CTBTO is very proud of the quality and timeliness of its data, Executive Secretary Tibor Tóth told Turkey's ambassador to the organization, Ramazan Tomur Bayer, at a signing ceremony at the CTBTO headquarters in Vienna.

Since 2006 the Vienna-based organization has been making data available from its network of seismic facilities to tsunami warning centres to complement their own monitoring of seismic events that could cause tsunamis.

The CTBTO provides the data in collaboration with the United Nations Educational, Scientific and Cultural Organization (UNESCO).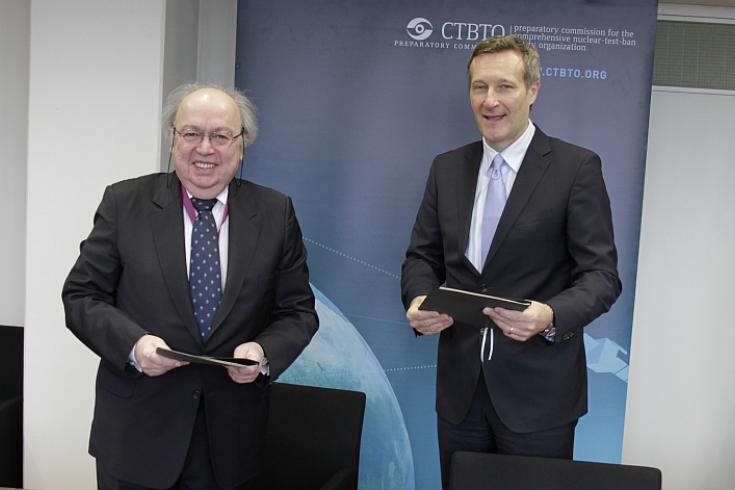 The data are collected by the CTBTO's global alarm system that monitors the planet for any evidence of nuclear explosions and are noted for their reliability.

Currently the CTBTO is sending data to tsunami warning centres in Australia, France, Indonesia, Japan, the Philippines, Thailand and the USA (Alaska and Hawaii). Additional agreements are in the process of being negotiated with other States.

The CTBTO International Monitoring System (IMS), when complete, will consist of 337 facilities worldwide to monitor the planet for signs of nuclear explosions. Already 80 percent is in place. The network will include 170 seismic facilities, 11 hydroacoustic monitors to detect underwater explosions, 60 infrasound facilities to monitor sub-audible sound and atmospheric analysis to monitor radioactive gases and particles in 16 laboratories from 80 radionuclide monitoring stations.