Robert Floyd takes office as CTBTO Executive Secretary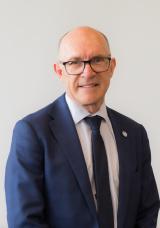 Vienna, 2 August 2021
Dr Robert Floyd formally took office today as the new Executive Secretary of the Comprehensive Nuclear-Test-Ban Treaty Organization (CTBTO), which works to end all nuclear explosions.

An Australian scientist with extensive leadership, management and diplomatic experience, Floyd signed a letter of appointment in a short ceremony at the CTBTO headquarters in Vienna, Austria. The letter was co-signed by Czech Ambassador Ivo Šrámek, the Chair of the CTBTO's governing Preparatory Commission.

"I am humbled and honoured to lead this organization in such a noble cause," Floyd said. "I'm deeply respectful of the responsibility bestowed on me, and the magnitude of the task. But I'm not overwhelmed, for two reasons.

"First, so much has already been done. We have 185 states that have signed, 170 that have ratified, 302 monitoring facilities in place, a verification system that works – this is an amazing achievement. We are building on a strong foundation laid by Executive Secretaries before me, each of whom has laboured hard and long for this noble cause. Second, we have an excellent staff who are so competent and so committed to this cause.

"I'm so proud to labour with you all to present a future to a coming generation where nuclear weapon testing is studied in history classes and not in current affairs. Together, let's finish this task!"

Floyd was previously Director-General of the Australian Safeguards and Non-Proliferation Office (ASNO), Australia's national authority for implementing various treaties to control weapons of mass destruction, whose mandate includes overseeing operation of 23 facilities in the CTBT's International Monitoring System (IMS) to detect nuclear explosions.

He was elected by States Signatories to the Comprehensive Nuclear-Test-Ban Treaty (CTBT) in May 2021 and began his term on 1 August, succeeding Dr Lassina Zerbo of Burkina Faso.

Floyd is the CTBTO's fourth Executive Secretary, following Zerbo (2013-2021), Ambassador Tibor Tóth of Hungary (2005-2013) and Dr Wolfgang Hoffmann of Germany (1997-2005).
 
Background
The CTBT bans all nuclear explosions everywhere, by everyone, for all time. Adherence to the Treaty, which opened for signature on 24 September 1996, is nearly universal, but it has not yet entered into force. To do so it must be signed and ratified by all 44 States listed in the Treaty's Annex 2, of which eight are still missing.

The CTBT's unique verification regime includes an International Monitoring System (IMS) based on four key technologies - seismic, hydroacoustic, infrasound and radionuclide - to ensure that no nuclear explosion can go undetected. Currently, 302 certified facilities – of a total of 337 when complete – are operating around the world.